Group work rooms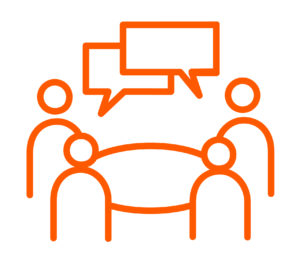 The NTNM library has a total of 5 group work rooms available, out of which the three smaller ones can be accomodate upto 8 people, and the two larger ones up to 12 people. The room 0.14 (Gottfried Wilhelm Leibniz) has technical devices for available presentations, which can be used on request.
Ground floor 0.14 (Gottfried Wilhelm Leibniz) – 12 persons
Ground floor 0.16 (Richard Feynman) 12 persons – 12 persons
1st floor 1.02 (Richard A. Zsigmondy) – 8 persons
2nd floor (Marie Curie) – 8 persons
2nd floor (Leonardo da Vinci) – 8 persons
Terms of use
All group study rooms (with the exception of the ground floor 0.14 (Gottfried Wilhelm Leibniz) can be used by 2 persons without reservation within the opening hours of the library (Note: not for individual persons!). Groups have priority. A reservation is a obligatory for room 0.14 (Gottfried Wilhelm Leibniz). It is available for groups with a minimum group size of 4 persons. Reservations are only possible for registered users of the NTNM library (user account). This study room is always locked due to the technical equipment. To unlock it, please contact the library staff.
Reservations are possible until the previous day before 4:00 p.m. You can make your reservation in person or by phone (302-2467) or via e-mail info@ntnm-bib.de. If you wish to use the available technology in the room, please inform us while making your reservation.
The rooms can be reserved from Mon-Fri for defined time periods 09:00-13:00 and from 13:00 to 19:00.Reservations can be made maximum 4 weeks in advance.If you are unable to keep an appointment, please inform us in good time so that the room can be allocated to other interested parties.
Responsible for this area
Lea Talida Klüß
0681/302-4652
kluess@ntnm-bib.de